Portrait
Accueil > Portrait français > Portrait English

Ina Georgeta STATESCU
Born in Bucharest, Romania
Lives and works in Noisy le Grand, France

Let me talk about myself... ( Ina Georgeta STATESCU )
We come in this world with a heart full of love.
We all have envies, passions and preferences....
Read more
…About Ina.... ( Catherine Azzaro )
I met Georgeta Statescu as I was creation manager in the LORIS AZZARO Sewing house.
We have now collaborated for many years in the development of new collections.......
Read more

Let me talk about myself…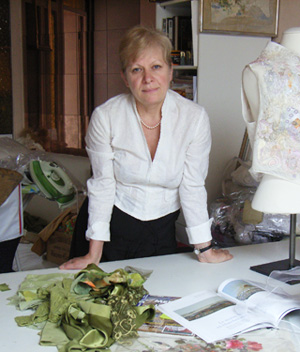 We come in this world with a heart full of love.
We all have envies, passions and preferences.
As a child, I was already attracted, seduced and fascinated by colour, cloth, thread.
Today, when I think about it, I still remember the beginning: when my mother was buying herself a nice dress, I was cutting it with passion to dress my dolls, my dog, my cats…
Out of curtains or of linen sheets I was making dresses for my sister and me… I was amazed when my mother didn't show any enthusiasm as I was showing her my creations! I still hesitate between regretting my mischief and keeping in my collection all the fabrics that are around me and that I desire. A child's play lasting a life time.

"As I touch the thinnest piece of cloth, I still think it's talking to me.
I listen, I travel and I dream with the eyes wide open.
What can call up past generations better than fabric?
What will better talk later of our present either? "

My first contact with a piece of cloth is always full of intensity and mystery, as if it would be reincarnated.
In one of my previous expositions, at a UNESCO meeting in Paris, I was very surprised to see the visitors thinking they were recognizing their own visions of traditional embroidery from their countries in my compositions: they thought I was coming from India, Turkey, Japan, Iran and Greece... whereas I was convinced to be the only one to create such pieces. And for good reason: I had travelled only once: from Bucharest to Paris.

Romania is my wonderful birth country where many traditions of embroidery still exist:
The women also know how to love, work, sing and embroider. They taught me how to bring cloth to life. In Bucharest, I studied textile art, specializing in fashion techniques.

I have lived and I worked in France for more than ten years now. As they say: "one never forgets the first love; but the second one is always stronger than the first"; it's so true…
I'm so happy! I have opened "a new door" to a new world.
I find my inspiration everywhere… in nature, in all arts but still and forever in the beauty and richness of my beloved fabrics. And without limits giving me the force I need to go higher and higher. What a fulfilment!

I feel privileged to be able to express myself through painting, kneading, weaving and embroidery of this marvellous medium. How else could I better appease both eyes and soul?
I have always found my pleasure in transforming and enhancing the ordinary while loving and respecting the material, only to reach a new depth of beauty. We like to think we're inventing, but when practicing textile art – sewing, embroidery, weaving – there's so little left to invent… it is all but a beautiful illusion!
Creation can gush out from the power to dare, dare making, dare seeing, dare mixing traditional textile techniques and even dare to admit errors as a source of innovation.

The attempt of mastering technique at it's highest level and the continuous call of inspiration brought me to where everything I do seems so easy.
My work is now like a child's play that opens the door to the unknown; and then, door after door, I find, amazed, the joy of the never-done-before.
Everything becomes possible, everything is allowed: how come no one tried it before?
And I still feel that the days are too short to accomplish all of my projects, all of my dreams..

Ina Georgeta STATESCU
△ Haut de page

…About Ina…

I met Georgeta Statescu as I was creation manager in the LORIS AZZARO Sewing house. We have now collaborated for many years in the development of new collections.

One day, as I was greeting new suppliers, I met a sweet, smiling woman, with a singing accent. She got out of her bag small pictures made of a thousand small squares of cloths and braids put together and she asked me if I thought I could use them!
These wonders became dresses with names: Icone, Troïka…, names inspired by Georgeta's origins.

This extraordinary woman brought to us her universe made of subtle colours nicely balanced, like an alchemist concocting his mixture. From simple squares of cloth she creates sublime works of art. A dress that contains a Georgeta Statescu's embroidery shouldn't be worn but should be admired in the same way a painting is: with distance and respect.

Catherine Azzaro
△ Haut de page